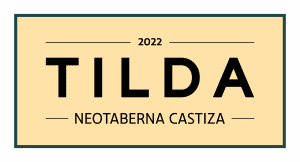 BAR-RESTAURANT TILDA: NEOTABERNA CASTIZA
#SomosRestaurante Tilda is born as a new concept of restaurant in Malasaña that combines the best of the most traditional taste with traditional tapas and ingredients of the highest quality. A return to the roots that wants to tell you the history of Madrid through its traditional recipes, but with a twist in the menu, because #somosdemadriz #somosmalasaña In addition, we have a menu of the day for 16 € which includes first, second, dessert and drink.
#SomosTuBarDeCañas If you are a bar person, we are not a tasca, we are a tavern. Renewed. Enjoy the best beer in Madrid or our wine list with a great selection of tapas.
#We have an indoor terrace full of tables for you to enjoy with your friends for appetizers or celebrations.
Are you going to miss it? Book your table for the restaurant or come for a beer, we are located at Calle San Bernardo 48, inside the Hotel Akeah Gran Vía Adults Only in the heart of Malasaña!
SEE MENU OF THE DAY >
SEE RAMEN MENU>
SEE MENU IN PDF
SEE WINERY IN PDF>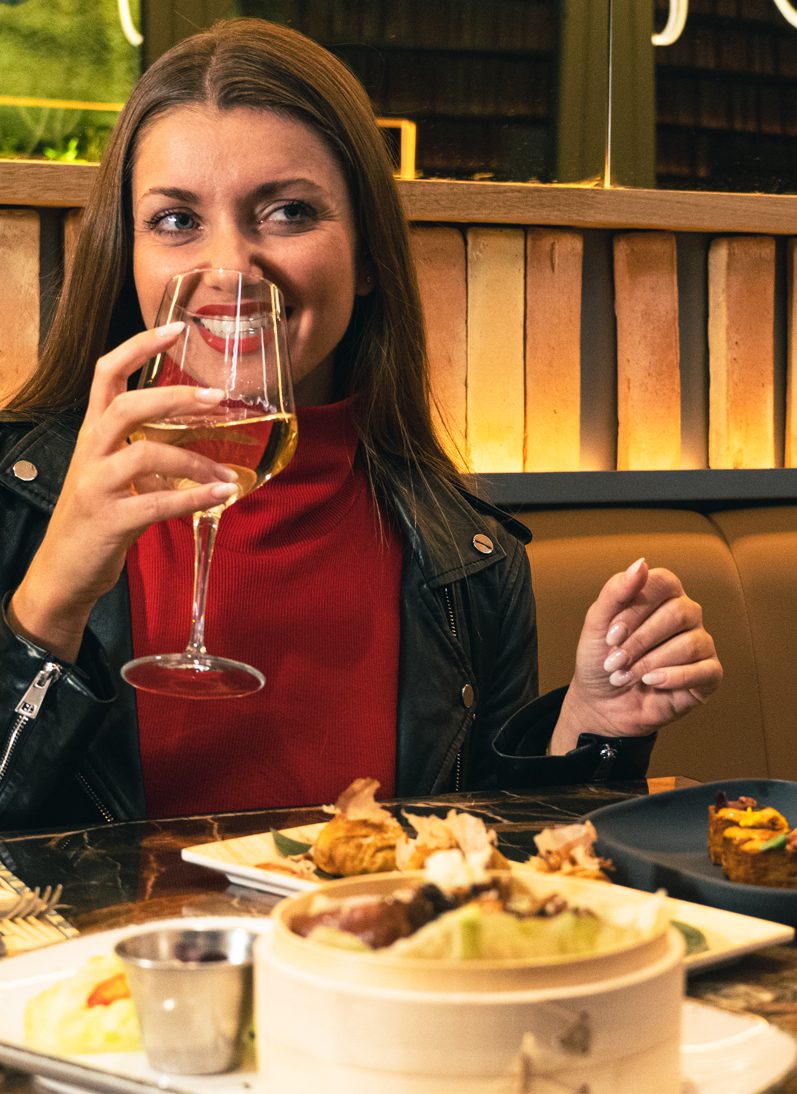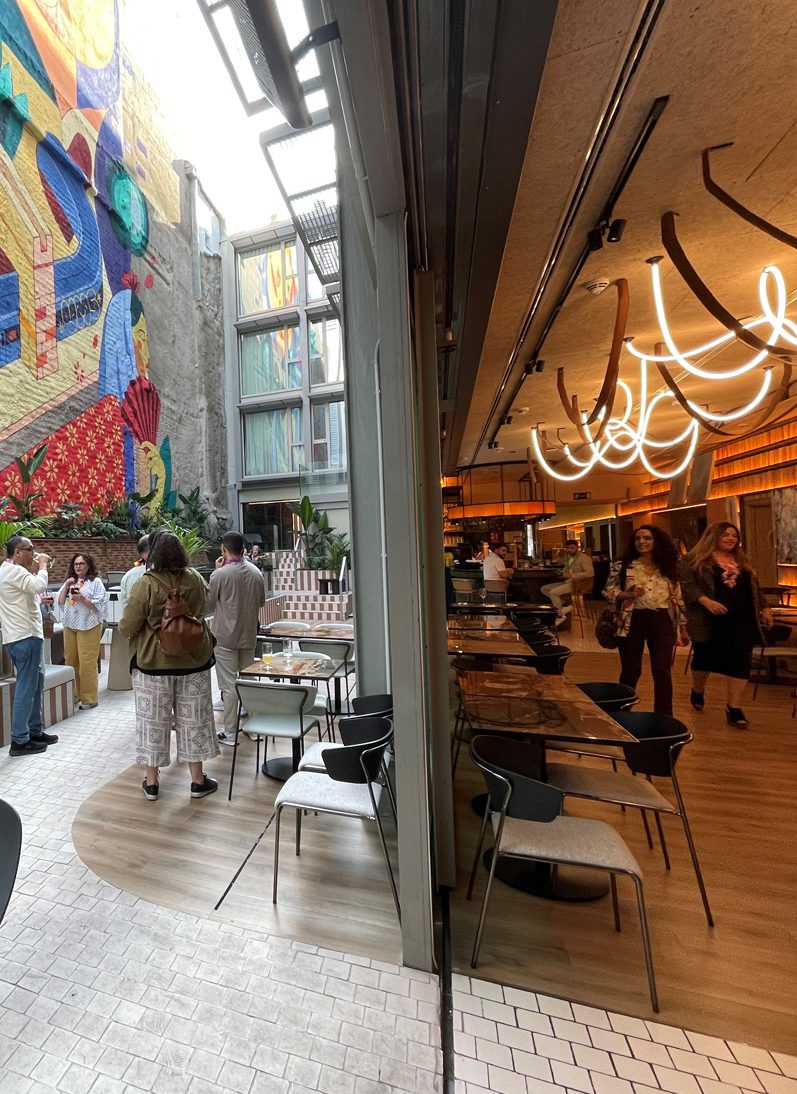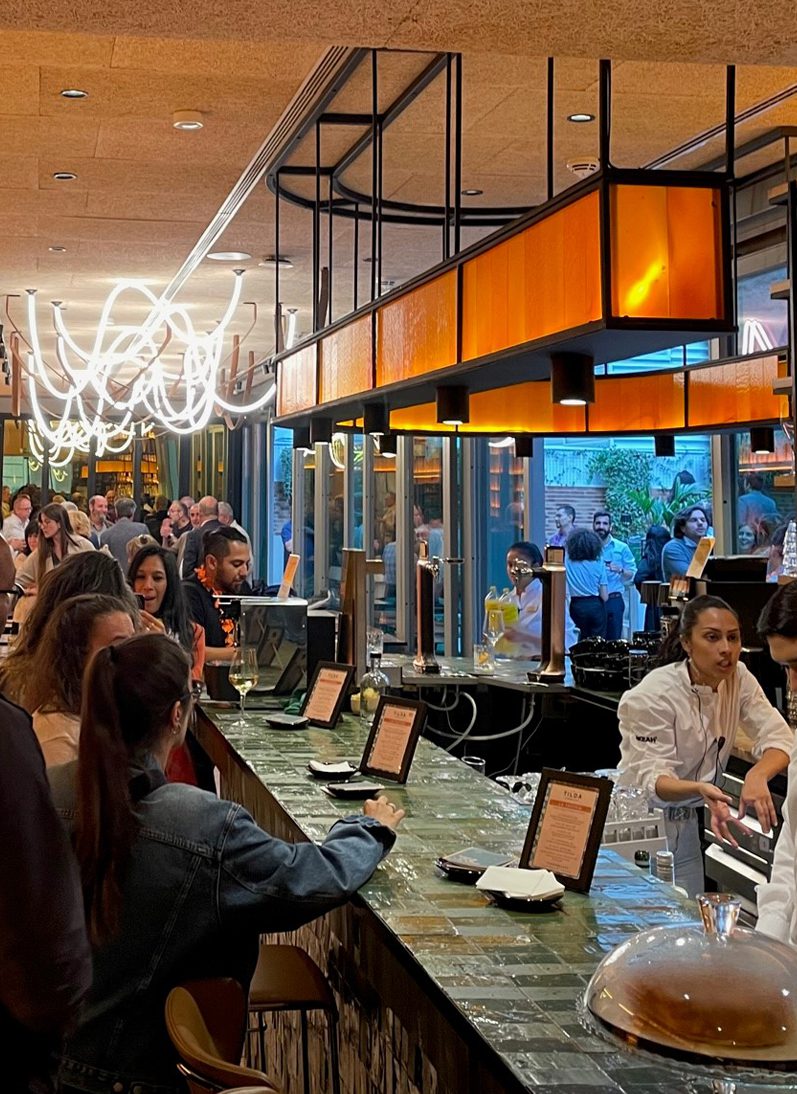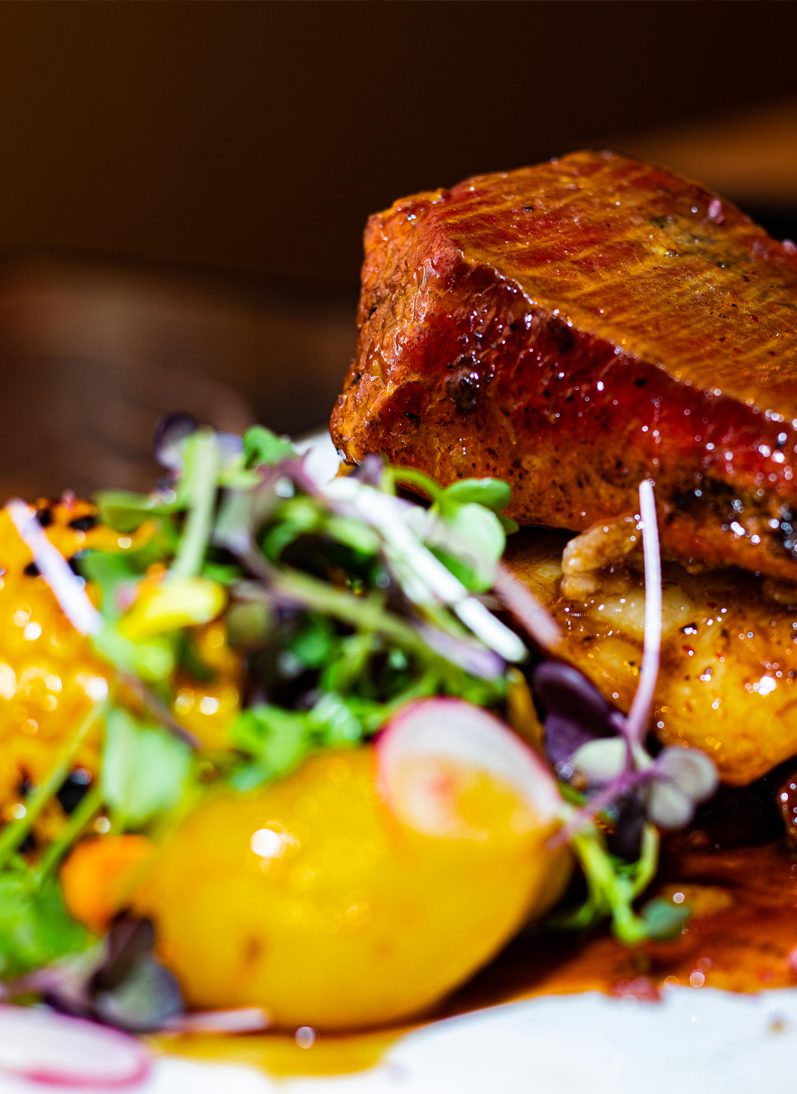 WHAT DO OUR CUSTOMER SAY ABOUT US?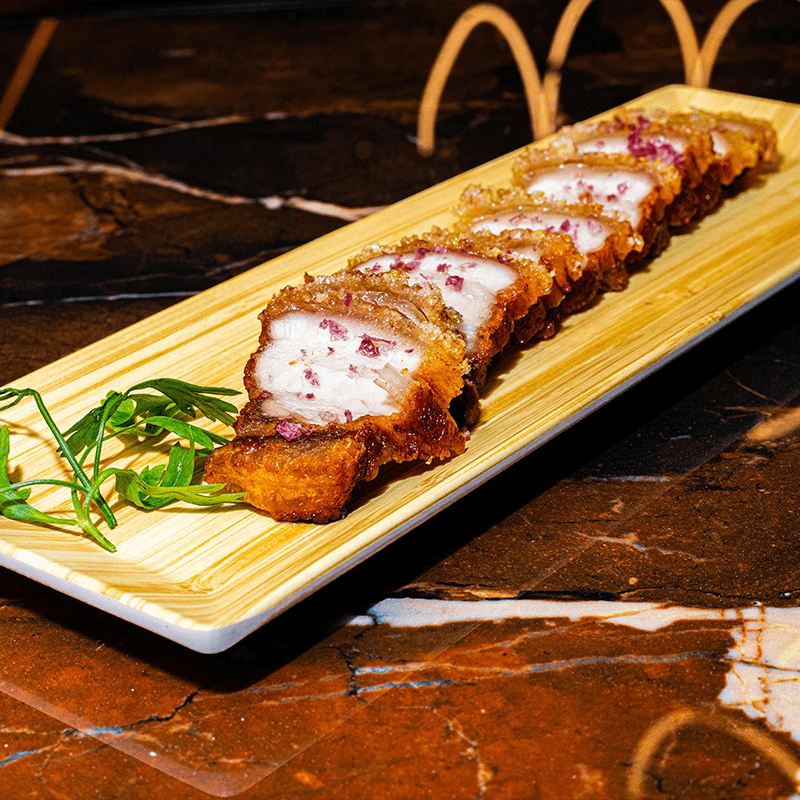 BAR TILDA – NEOTABERNA CASTIZA
From Malasaña with Ñ and from Madriz with Z and without accent. In our Bar Tasca de Malasaña you can enjoy an excellent menu of dishes as delicious as the ones your grandmother would prepare for you, or as surprising as the dishes your aspiring chef friend cooks.
Madrid is one of the cities that boasts the best beers, and in Tilda we are no less. Our waiters will serve you one of the best beers in Madrid. With indoor terrace, come and have an aperitif in the company of your loved ones, with a beer or with our extensive wine list.
What are you waiting for to book?
Come and meet us! We are in San Bernardo street 48. Call us at (+34) 919 993 809 and book now!
BOOK NOW>
TILDA MALASAÑA RESTAURANT
We are in the heart of Madrid, our restaurant in Malasaña, you can try the squid sandwich on brioche bread with black yuzu aioli, Madrid style tripe with achiote base or patatas bravas with chile rocoto base and fresh piparra. A menu of dishes made with local products and the highest quality at the best price.
Enjoy the typical dishes of Madrid but with a twist in the old Fuentetaja bookstore that gave life to the building years ago. But now, we want you to be the one who writes the story. We have a menu of the day for only 16€ from Monday to Friday.
We are in San Bernardo street 48. Call us at 919 993 809 and book now!
BOOK NOW>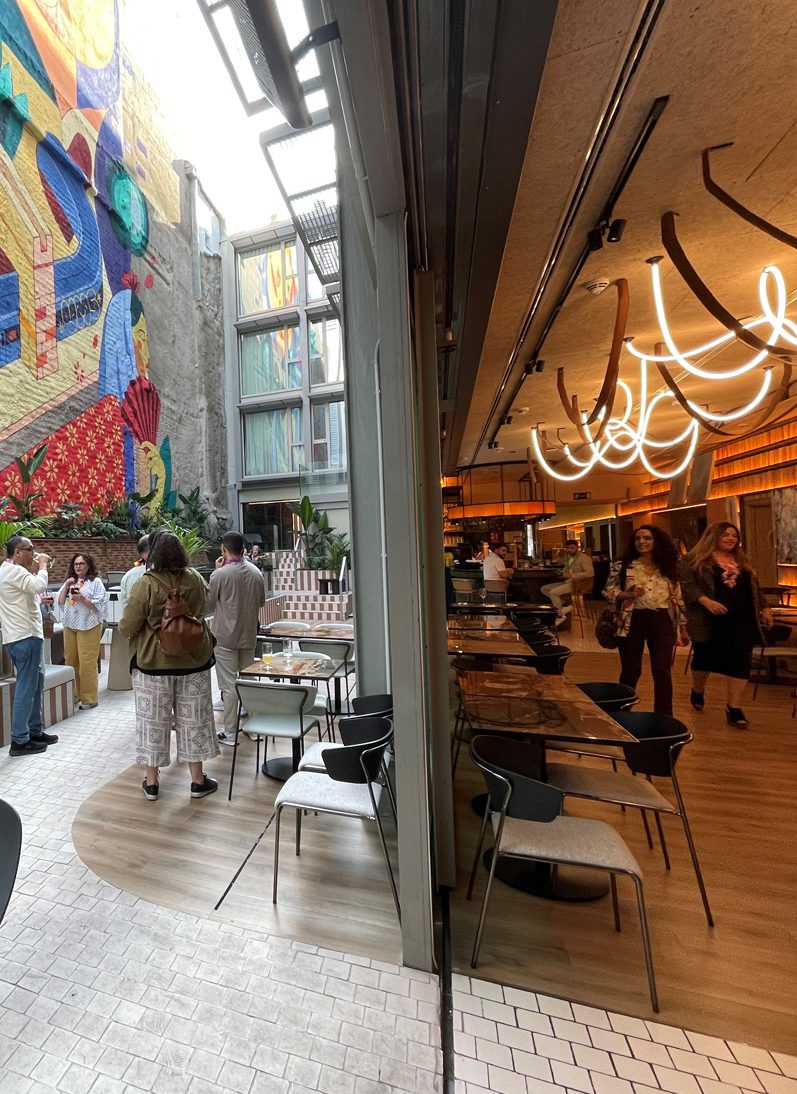 SPACE FOR EVENTS IN THE CENTER OF MADRID
With a privileged location in Madrid, at Calle San Bernando 48, it is a haven of calm built in the former Fuentetaja bookstore. A multi space with a restaurant area and interior patio, as well as an impressive rooftop with infinity pool on its rooftop, with views over all the rooftops of the most traditional Madrd. With a wide experience in the organization and celebration of special days, our team will be happy to listen to you and attend all your requests: whether it is a corporate event or a more informal gathering with family or your other chosen family: your friends.
SHALL WE TALK?
BOOK NOW
We are not from a bar, we are from a tavern (renovated).
We are in Akeah Gran Vía, on Calle San Bernardo, 48
(+34) 919 993 809 | reservas@tildamadrid.es
COME IN AND DRINK, WE ARE OPEN
We are open from 8 in the morning
Buffet breakfast from 8:00 a.m. to 10:30 a.m.
Non-stop kitchen until 11:30 p.m.
Very soon... We are opening a terrace!


Buy your restaurant gift card for your employees, for a special person or for a birthday. Write us at eventos@smartrental.com or call +34 686 62 76 76 20 and we'll get right on it.
(Conditions: Minimum amount 50€. 12 months available to redeem the card from the date of purchase).
FIND US
RESTAURANT NEAR ME
Tilda Neotaberna Castiza is located inside the Hotel Akeah Gran Vía Adults Only, at Calle San Bernardo 48. In the heart of the Malasaña neighborhood, in the heart of Madrid, the nearest Metro is Noviciado, with Santo Domingo and San Bernardo a few meters. And if you come by car, you can park in the hotel car park!